Individual decorative elements for a cozy home
Individual decorative elements have recently become increasingly popular. There are often no limits to the imagination. One aspect that is often not taken into account is that the corresponding decoration should not only be individual, but also comfortable and maybe even have a personal touch. Exactly such decorative elements can be found in our future Bergdesign online shop and breathe new life into old wood, for example
Bergdesign - Where are our products made and what makes us special?
Our Bergdesign company is based in beautiful Bichlbach in Tyrol. Since we would like to bring our region, which stands for cosiness, into your living room, the basic design of our decorative elements is based on the local flora and fauna. But this is done in a well thought-out way that moves into your home in a subtle design.
Sustainability also plays a major role for us. For this reason, we primarily use waste wood. This not only enables us to protect the local forests, but also to use the natural charm of the old wood, so that the coziness moves directly into your home. In addition, we attach great importance to the fact that the majority of production is located in Tyrol and only smaller parts are manufactured in cooperation with a manufacturer in France.
Mountain design - What types of individual and personal decoration can we offer you?
Our offer is diverse and ranges from individual sockets or light switches to the compilation of entire arrangements for your home or for rooms in a hotel. At Bergdesign, we always make sure that everything has a tasteful design and that the decorative elements are not too obtrusive.
We offer you the following products, among others, which you can customize to a certain extent according to your wishes:
Floor lamps made from reclaimed wood with individual lampshades
With our lamps you have the opportunity to decorate a stand made of old wood with an individual lampshade. This lampshade is decorated with old, printed photographs from the Tyrol region. You also have the option of uploading your own photos and designing your own individual lampshade. Matching these lamps, you can purchase pictures in prepared old wood frames, as well as switching material such as sockets and light switches, which can also be provided with personal photos. You can put together an entire arrangement and don't have to leave anything to chance when it comes to decoration.
Wine stand in an individual design
To round off the design in your house, your apartment or your office, we offer you the right wine stand, which is an enrichment due to its design. You also have the option of adding your own design to it. Either you secure a copy with scratched deer antlers surrounded by a flamed surface or decorate it with your own lettering or logo.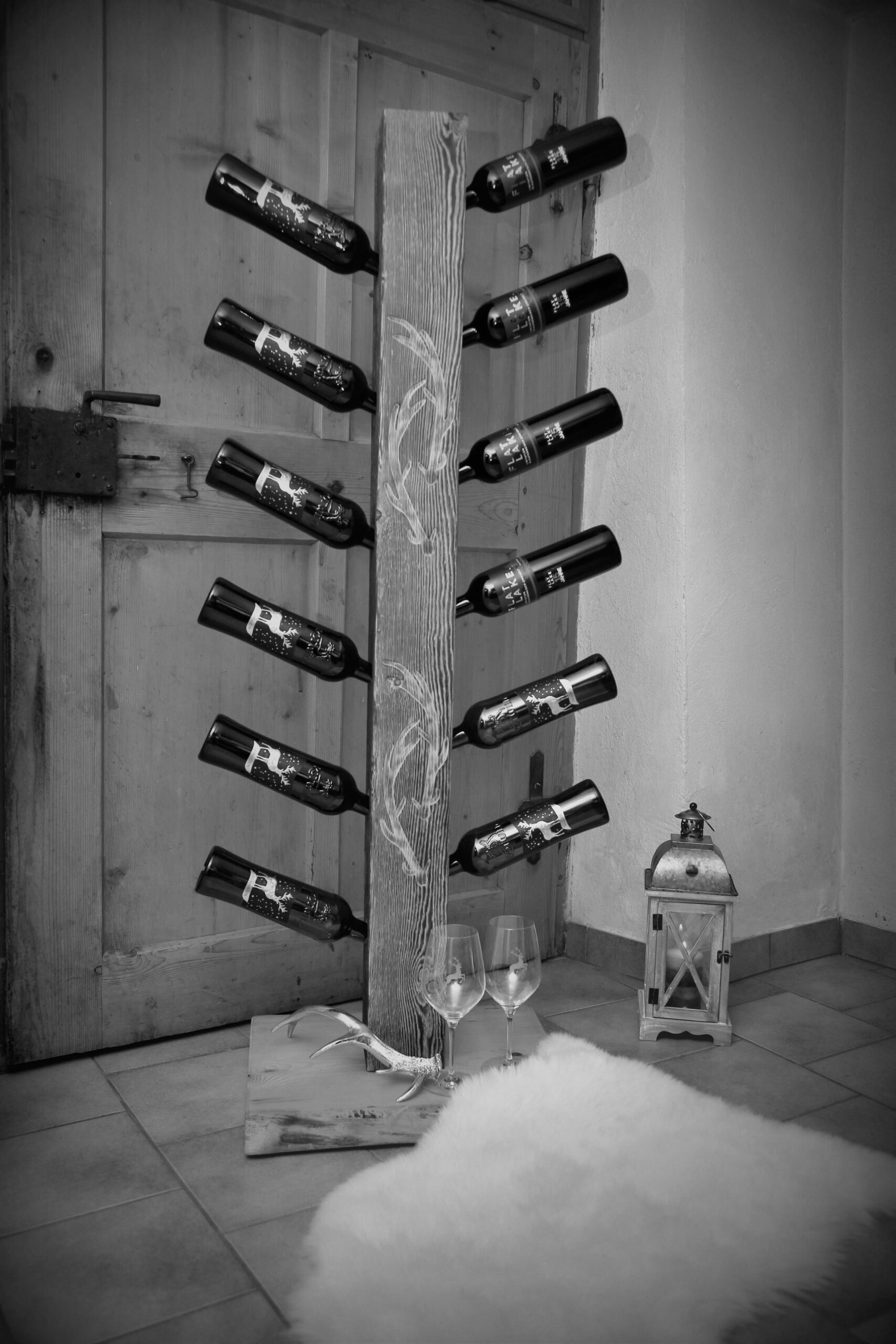 This gives you a wide range of options to bring a little Tyrolean Alpine flair into your own four walls. By using the old wood in combination with a flamed surface, it is possible to create elements that fit wonderfully into the overall picture of your house, your apartment or your office. You can also use the opportunity to incorporate your own photos and designs and create your personal oasis of well-being.